Chocolate point, DOB: 19-Mar-2001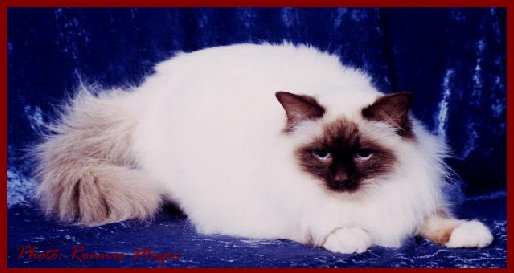 *** CAPE TOP CAT FINALIST: 2002 ***
Chino is a litter mate of Kaja. He did very well in shows as a kitten. On the 24th of August 2002, Chino obtained his Supreme title at the All Breeds Cat Club show - we are so proud of him! Chino is now a neuter and will be our pet and hopefully a good friend to Figaro, out other neuter.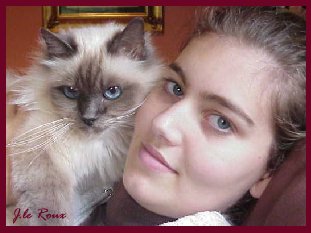 This is VANITY, a spayed Blue point Birman female. She was bred by Nanette Esser of "El Sharani Birmans" in Germany. Vanity was born on 09 March 1993. I bought Vanity from a SA breeder in the beginning of 1998 when she was 5 years old. She had 2 litters with me in the Classicats Cattery. Her first litter was 2 seal point boys, "Classicats Gummi Bear" and "Classicats Gaian Guy". Her second litter was 5 kittens (2 girls and 3 boys). Vanity experienced serious complications with this birth and after 8 days in hospital we decided to spay her to save her life. I had to raise her babies from their first day of life. I am so happy and proud to say that all 5 babies survived this ordeal and are now beautiful adult birmans - all seal points. Their names are "Classicats Handsome Hunk", "Heartbreaker", "Heart Tugger", "Hopes 'n Dreams" and "Heartsdesire" (or "Miss Mouse" as we called her). Vanity made a full recovery and she is my daughter's pet, and more beautiful than ever! The two of them are inseparable. Vanity is a very special birman, has been through a lot, and therefore I will never rehome her - she will stay with our family untill the end... She is the "Granny" in our birman household and keeps an eye on the rest of the birmans.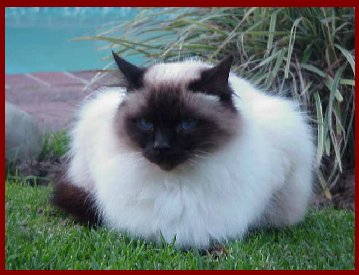 This is FIGARO, he was born on 15 September 1997 and bred by another SA breeder. Figaro was my first Birman and he sired only one litter before he was neutered. Four lovely kittens, "Czarina Chloe" choc point, "Claribel Chenca" blue point, "Cattleya Caja" choc point and "Chivago Chad" seal point. I bought Figaro's father and mother for breeding purposes and then Figaro became my son's pet. He is a Grand Premier and is retired from the show bench. He is my only birman that can open their "cookie jar" and helps himself to his favourite "fish biscuits". This boy has a fantastic personality.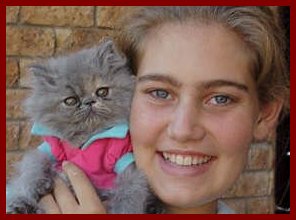 This is MISSY, Marizanne's blue cream Persian which was a gift from our dear friend Rusty Human.