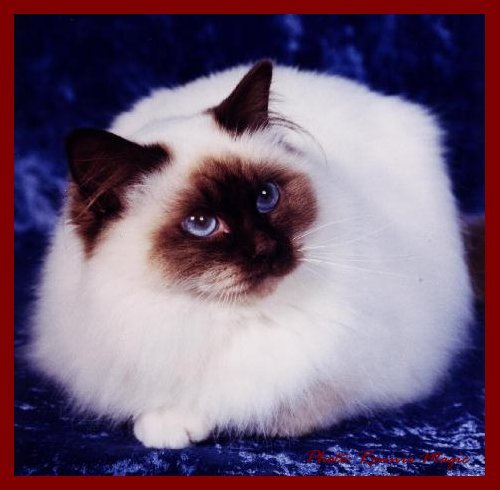 ABOVE: Supreme Champion Classicats Kaja Yousofine (Chocolate point)
THE FIRST CLASSICATS BRED SUPREME BIRMAN, AUGUST 2002 - REGIONAL WINNER (WESTERN CAPE) 2002 !!!
Mrs Jeanne le Roux
P.O. Box 4413, Tygervalley, 7536
Cape Town, SOUTH AFRICA
Telephone/Fax: 021 – 976 7004
International: 0027 21 - 976 7004
Cellular: 082 498 5609
Email: jeannelr@xsinet.co.za
http://saclassicats.tripod.com/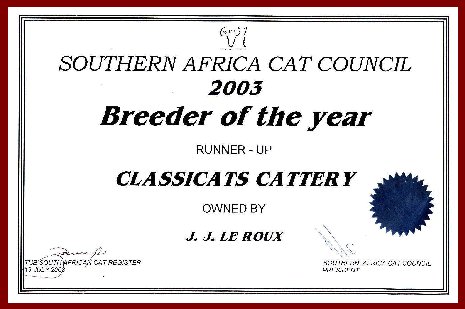 ABOVE: BREEDER OF TOP SOUTH AFRICAN BIRMAN KITTEN OF 2002 - CLASSICATS MERLOT MOON (Chocolate Point)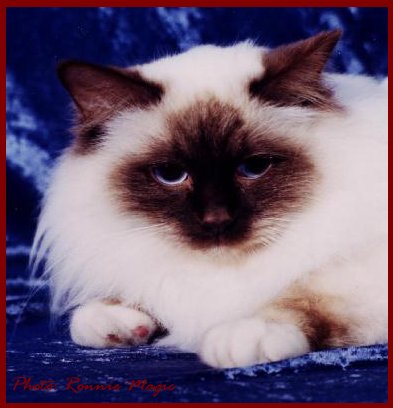 ABOVE & BELOW: BREEDER OF TOP SOUTH AFRICAN BIRMAN MALE OF 2002 - SP CH CLASSICATS CUPPACHINO (Chocolate Point)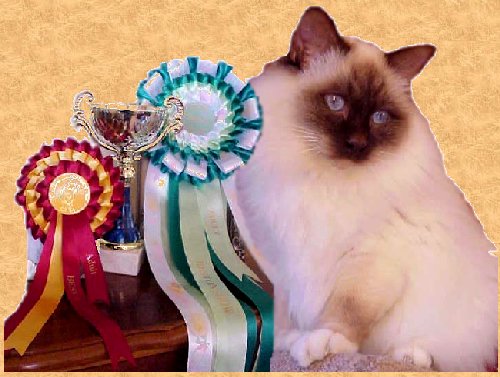 Welcome to my homepage, hope you enjoy the visit.
I started breeding in 1997 and my Birmans are from German and Australian bloodlines. My cattery, "Classicats Sacred Birmans", was established in 1998 and is registered with the South African Cat Register (SACC).
I breed the following colours: seal, blue, chocolate, lilac, red and cream as well as solid point colours, tabby points, tortie points and torbie points (tortie and tabby).
My cattery is FIV and Felv negative.
I only breed my females if their condition is a 100% and usually only once a year.
The most important goals regarding my breeding are to breed for perfect health, good temperament, good coat texture and colour, and good type and size. If my babies have perfect symmetrical markings, which make them obviously "more show quality", I regard it as a bonus!!! To me, the right "type" or "look" in my breeding stock and kittens is most important.
My males have their own separate stud houses with outside runs. I also have outside runs for my females, so they take turns to enjoy the outdoors, keep the studs company and stay in the house with the family. I do this as some females have to be kept separate to avoid fights and unnecessary stress.
My kittens stay with their mother, seperately from my other birmans, until they go to their new owners at 12 weeks of age. This is one of the precautions I take to guarantee my kittens good health. I do not raise my litters together. All my kittens are very well sosialized because they get lots of attention, affection and socialising from me, my children and family. Our kittens only leave for their new homes at 12 weeks of age, and are guaranteed healthy at time of sale. I sign a "Sales Contract" with each new owner that protects both Buyer and Seller.
My birmans do not have contact with any other outside cats.
I am a committee member of "The Sacred Birman Fanciers Group of Southern Africa". This breed group is affiliated to the "South African Cat Council (SACC)" and is the only breed goup in this country representing the Birman breed. All my Birmans and kittens are registered with the Southern Africa Cat Council (SACC).
Our Birman Group's goal are: to promote the Birman breed, to protect the Birman, to promote ethical breeding practices, and to always try and better the Birman breed.
I am also a member of the "Western Province Cat Club" and the "All Breeds Cat Club".
View My Guestbook
Sign My Guestbook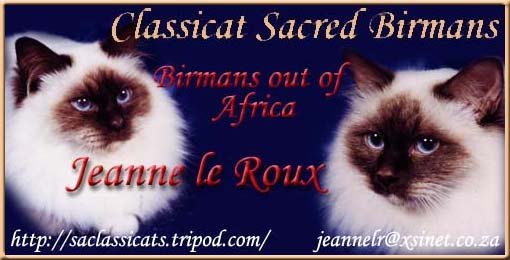 This page was last updated on 03-October-2003
You are visitor number: