Lilac point, DOB: 01 March 2002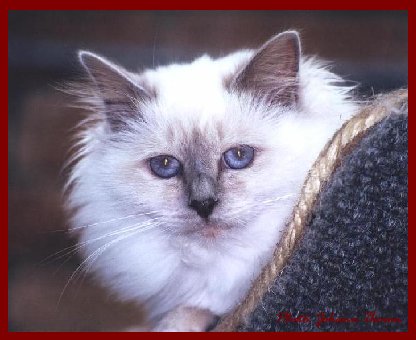 Thanks to Kerstin Ulsoe (Denmark) for sending us this beautiful girl!

Chocolate point, DOB: 19 March 2001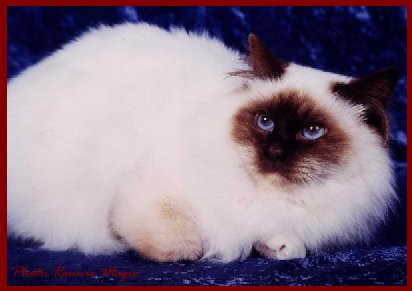 *** CAPE TOP CAT FINALIST: 2002 ***
Kaja is our other little "doll" and she is as sweet as a "chocolate box". I also bred her and knew from the start that I could not part with her. She has good type, fantastic coat, good eye colour and perfect markings, combined with a purrrrfect personality.
Kaja did very well on show as a kitten, and then she literally flew through her show career and obtained her Supreme title at the age of 1 year and 5 months. She also qualified to compete at the "Cape Top Cat" competition.
Lilac point (Import Australia), DOB: 19 January 1996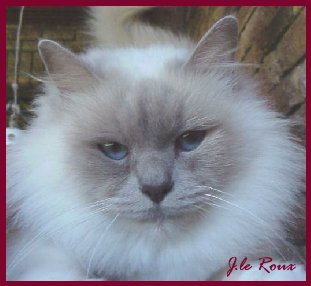 I bought Enoki from a breeder in SA in 1998. She is an import from Australia and was bred by Sue Thompson of Arakan Birmans.
Enoki is a big female with lovely type, coat texture and colour and stunning eye colour. She is my foundation queen and is any breeders dream. I kept two kittens from her for my breeding program. She gives birth so easily and I never have any problems or complications with her. She is also a very devoted mother.
She likes to be on her own – she does not tolerate the other females and is very devoted to me. She produces beautiful babies – one of her daughters is now a Grand International Champion in Europe. We are very proud of Enoki.

Seal Tortie Tabby (torbie) point (Imp Germany), DOB: 3 September 1999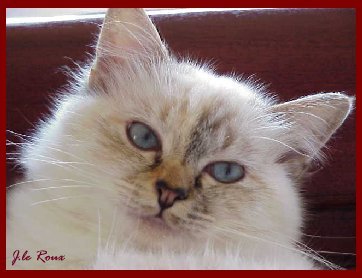 Butterfly is my 1st import and came all the way from Norbert & Marlies Eckers of V.Sechseichen Birmans in Germany when she was 6 months old. She has the most beautifull face with a very soft and sweet expression. I love her "eyeliner" around her eyes. She has a long body with good substance and produces big babies. Her markings are perfect and she has a strong chin.
I think she is the only tortie tabby in SA at the moment. This is such an exciting colour/pattern combination – it is so much fun to wait for her kittens to see which colour and pattern the babies will be. It is like a surprise packet to me and I love it. Butterfly has had 2 litters, one litter was born on 1 January 2001 and the 2nd litter on 10 November 2001. She has given me my first cream and red point kittens as well as my first tortie point kitten.
In June 2001, Butterfly received her Champion status and her 1st Grand Challenge Certificate from "Guy Pantigny" from France.

Seal Tabby point (Imp Germany), DOB: 18 March 2000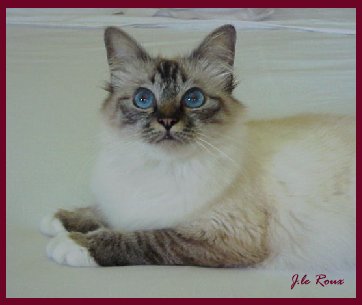 Alan and I went to Germany to fetch our 2nd import from Norbert and Marlies Eckers. Eva was 6 months old when she arrived in SA. It was my dream to own a seal tabby. I love this specific strong contrast between body and point colour and especially the "tiger look".
Eva is a big female with a long body, lovely eye colour, good head and perfect markings. She is very much a "mamas girl". My bedroom is her domain and she insists on sleeping between Alan and I. She also have long "conversations" with me and "calls" me at night to come to bed, only then she will settle down.
She received her Champion title on the 19th of May 2001 and was judged by "Nini Phalempin" from Belgium and by "Lesley Morgan Blythe" from Australia. Since then she received 3 Grand Challange Certificates, of which one GCC was awarded by "Guy Pantigny" from France. Eva's 1st litter was born on 11 January 2002.

Blue/cream Tortie point, DOB: 01 January 2001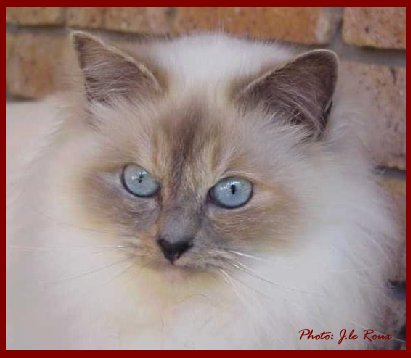 Zaza was bred in the Classicats cattery. From the start I just new I will keep her. She has good type, (nice round head and full cheeks) has a stocky build with good markings. She has an exquisite coat colour and texture, with the same sweet expression as her mother.
Zaza (Zsa Zsa) means "princess" and that is exactly what she is to us, our little Princess. She has a temperament to die for and is like a "flop doll" in your arms.
Zaza did very well in the kitten classes last year. She received her Championship status on the 25th of May 2002 and also received 2 Grand Challenge Certificates. Zaza had her first litter on 1st of March 2002.

Blue point, DOB: 08 September 2001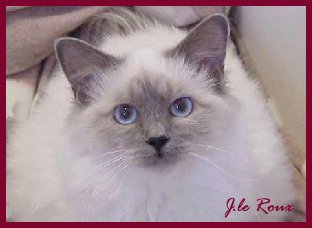 We fetched "Nina" on the 11th of Dec 2001 from her breeders Norma & Chris Boshoff of Kandaha Birmans in Vereniging, while we were on holiday visiting my mom in Pretoria. Nina is the most adorable kitten, very affectionate and playful and off course she has the "looks". This baby is lovely, gorgeous eyes, coat and size. She has settled in without any problems and is big friends with Eva - these two share our bedroom with us. Thank you so much to Chris and Norma - we are indeed very proud new parents!
Nina is doing very well in the kitten classes. She always gets a 1st placing and was awarded "Best Birman Kitten" at her last show on 25th of May 2002.