I was born in Cape Town, spent my childhood and school career in Durbanville and we are now back in "Durbanville", a lovely town in the northern suburbs of Cape Town, surrounded by farms, beautiful vineyards and the "Boland mountains" on the one side, and Cape Town City, Table Mountain and the West Coast ocean on the other side.
During my high school years I had 3 siamese cats, the old "apple-head" type – pets were always part of our household. I also had a very unusual snow white moggie with a pitch black tail.
After I finished school in Durbanville, I started my 4 years study in "Social Work" at the "Hugenote College" in Wellington. It is one of the most beautiful towns in the Boland and is close to Durbanville, Paarl and Stellenbosch. At that stage Alan, my husband, studied "Civil Engineering" at the University of Stellenbosch. We enjoyed our student lives tremendously.
We got married after finishing our studies and in August 2001 we were married for 18 years. We have 3 children: Our daughter Marizanne who is 17 years old and two boys, Etienne who is 15 years old and Johan, now 9 years old. All three of them are crazy about cats…
I was 26 when my husband was transferred from Cape Town to Johannesburg (now Gauteng) We lived in Randburg, Johannesburg for 10 years. I had a ginger moggie, called Duchess. We had her spayed at 6 months old and she died under anesthetic. We decided we couldn't be without a cat so we got another 9 month old moggie, this time a male neuter and we called him "O'Malley". He was a long-haired tabby and white cat and had a gorgeous personality. He slept on our bed every night and we grew very attached to him. We later got him a friend, a white little female kitten, whom we also named "Duchess".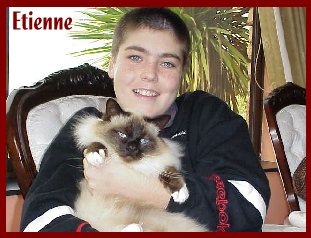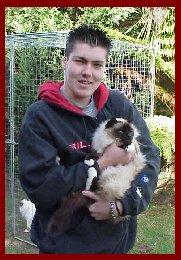 "O'Mally" and "Duchess" were named after the leading "gentleman and lady" in the Walt Disney movie "The Aristocats". The two of them adored each other.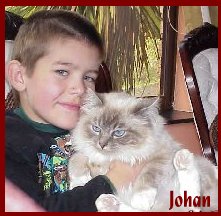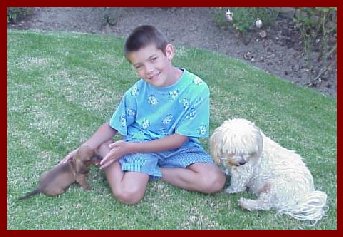 We had the privilege of caring for O'Malley for one year. One night he did not come in for his supper. We waited for him to come back home, keeping windows open at night, incase he would come back. He never did. Then Duchess got sick and died. We were heartbroken and decided we will not get any more cats for the time being – we had enough heartache and vet bills. At this stage we did have 3 dogs, a Rottweiler and two maltese dogs.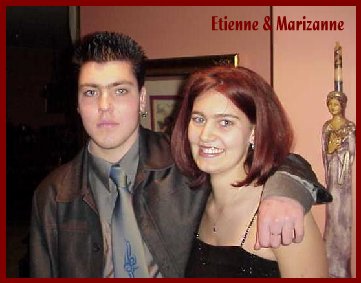 MY FIRST BIRMANS:
After a few months Alan took me to a cat show in Randburg (my very first show). I was in my element when I saw a seal point birman. I do not know what it is with colour point breeds, they always attract my attention. There I fell in love with the birman "look" instantly. I just knew that this was the breed for me. I contacted the breeder and put my name down for a kitten. Breeding never crossed my mind, I just wanted a cat in the house again.
BUT, the breeder talked me into breeding and when Alan was transferred back to Cape Town in December 1997, I took my first two kittens with me. They were a seal point male and blue tabby female.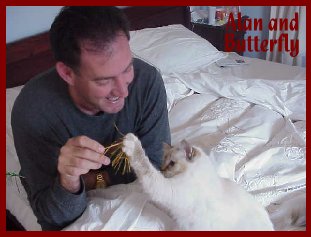 Not long after our arrival in Cape Town, a breeder offered me 3 adult imported birmans. The seal point male and lilac point female were from Australia and the blue point female was from Germany. By then I was very keen to have a first litter and with these adult cats I could start breeding right away, so after thinking everything over my husband bought them for me and I was "over the moon" with joy. The 2 females arrived on the 3rd of April, 1998. A while later the male arrived. I then neutered the seal point kitten I got first, because my son wanted him as a pet, and because my new adult male was his father, there was no point at that stage to keep the male kitten for breeding. Old Figaro is still Etienne's devoted pet.
MY FIRST "CLASSI" LITTER:
My very first litter was born on the 15th of July 1998 - 4 healthy kittens and the first chocolate point birman kittens in SA. I was overwhelmed with such a good feeling, it is difficult to describe… Since that day I never looked back. There have been many more litters since – and I hope and trust there will be many more litters in the years to come.
There were complications, heartache and disappointment at times, but the happiness these birmans brought into my life and my family's life weighed much much more, and makes it worthwhile to breed.
I learned very quickly that to breed (the proper way) costs a lot of money and if it was not for Alan's financial support, as well as "emotional" support, it would not have been possible for me to breed. I can count on my family's support in every way.
Because of the attention they always give to our kittens, the kittens are very well socialized when they leave our home at 12 weeks. My daughter, Marizanne, helps me tremendously and is always by my side at shows or when a queen gives birth. The blue imported female, Vanity, that I bought from a SA breeder had to be spayed after her 2nd litter with me. She is now retired and is Marizanne's precious pet – Vanity looks like a "soft toy" on her bed, prettier than ever. Marizanne also has a Persian cat named "Missy".
As I gained more knowledge and experience, and the feeling for the "right Birman look", I had some hard decisions to make. Vanity's 2 daughters that I kept out of her last litter were too small and they both experienced birth complications. I decided not to put them through breeding again and I spayed them and rehomed them in wonderful homes. My blue tabby female that I bought , was also to small, she had a Caesar with the first litter. With the 2nd and 3rd litters she gave birth normally but she lost so much condition after raising a litter that I decided she was not meant to be a breeding queen and she was also spayed and rehomed.
I am happy to say that I do keep in contact with these new owners.
I had a lovely cream tabby male, but his coat was really just to thick – I had to brush out knots all the time (he had quite a heavy undercoat) and I decided not to have this in my lines. He's coat did also shade from a very young age. This boy is also neutered and his new owner likes to take him to shows, so I do see him often.
Belief me, it is not easy to rehome adult cats, especially those you have raised since kittenhood, but if you do want to breed you have to do it, and I have accepted this reality. I will always have good memories of all of them. As long as I know they are loved and cared for I have peace in my heart. Yes, and my heart will be broken in future, every time when I have to make this decision.
NEW LINES:
I started an "email friendship" with a breeder in Germany and the result of this friendship and trust that we have build over time, are 3 lovely imports from Germany, who are now very happy Classicats. Butterfly, my seal torbie arrived first and then Eveningstar (seal tabby) followed and last but not least the BIG boy arrived, Mister Merry Mac.
All 3 German imports have proved themselves to be excellent breeding cats.
We visited Norbert and Marlies Eckers in Germany for 2 weeks and Norbert and his 2 sons visited us last year. We enjoyed this very much and I know there will be many more visits. My new imported bloodlines from Germany compliment my existing Australian lines very well and I do breed the "look" that I like in a birman.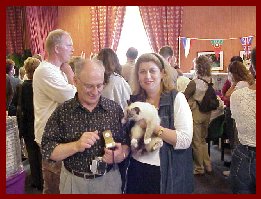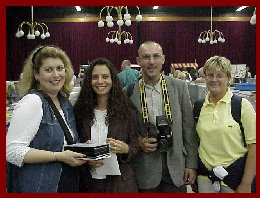 The colours I breed are seal, blue, chocolate, lilac, red,cream.
I breed solid points, tabby points, tortie points and torbie points
The variety keeps my breeding interesting and exciting. I love the "surprise packet" idea!
MY BREEDING BIRMANS:
I now have two males, both seal points, as well as 7 breeding queens (females).
OUR NEUTERS/PETS:
We have 4 neutered cats, 3 birmans and a Persian. At this stage we have one dog, a dachshund puppy and his name is Yum-Yum.
HIGHLIGHTS:
Highlights sins I have started breeding include:
"Classicats Beauty Blossom of Inlay's Shine" who lives in Slovenia with her owners, Elda and Franko Fabeie, and who is now a Grand International Champion. Blossi is also a successful breeding queen.
I have bred my first red and cream point kittens.
I have bred my first tortie point kitten
I imported new bloodlines and in the process met fantastic people and new friends.
I attended a cat show in Emmen, in the Netherlands and I had the opportunity to show my own kitten there. To top it all she was Best female Kitten on show!!
I bred the first chocolate point birman kittens in SA.
Owning the first torbie point birman!!
I send two of my kittens to Antoinette Bezuidenhout of Hopewell Birmans for breeding purposes. They are Classicats Emily Lilique (lilac point) and Classicats Miss Dior, (seal point). I wish you success with these two girls.
I sent a chocolate female, "Classicat's Czarina Chloe" to my very good friend Sandy Gunst of "Nooitgedacht Birmans". Chloe proofs to be a good breeding queen. Sandy and I work together with our breeding programme.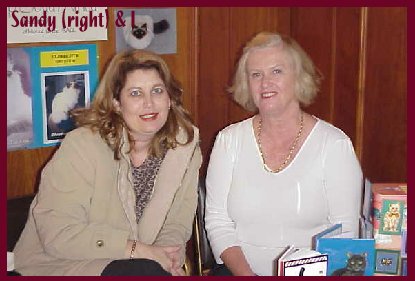 MY GOALS AS A BREEDER:
I have looked for size in my Birmans, and now I have the right Birmans and combinations to work with.
I am striving to breed big, healthy Birmans, with good type, good temperament and excellent coat colour and texture.
I am almost breeding for 4 years now and I still have a lot to learn. I think a breeder never stops learning.
The road ahead will be a new experience for me, it will be experimental in a way, it will be exciting to get to know my new bloodlines and above all it will be something that I WANT to do to the best of my ability. Breeding is my HOBBY – NOT a "financial" income!
To show is not my priority - it is a bonus if my Birmans do well on show.
I also want to work on my relationship with fellow SA breeders and get to know them better. I firmly believe that we can learn so much from each other and give each other all the support they need.
The most fulfilling for me is when a buyer phones me to tell me how they adore their Birman baby. When they send photos to keep me up to date with their Birman's development. When they come and visit unexpectedly with their Birman in their arms, so proud to show me how their kitten has grown into a beautiful adult and tell you how their Birmans changed their lives…..
For me as a breeder, this is what dreams are made of…